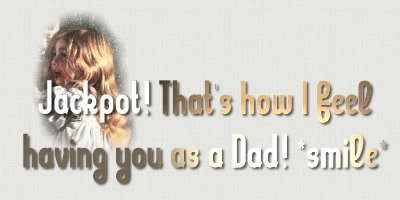 Father's Are Forever
Never forget the good times
Though few and far between
Never forget his arms around you
Distant though he may seem.
Fathers are forever
Their loving never ends
No matter how far away he is
His love he always sends
Some will want you to forget
Some will tell you lies
They think a child can only love
One parent at a time!
Loving is a gift from God
Endless, just like him
And just like your father's love for you
Which will never, ever dim.

Author ~ J. Martin



HAPPY FATHER'S DAY TO ALL YOU WONDERFUL DADS!




The beautiful song playing is
"Father and Son "
by Boyzone